Veer - an epic saga of bravery and drama, treachery and love...
Salman Khan's new movie Veer releases next year. The movie has created high expectations among salman's die-hard fans. Veer is a movie set in the 1880's in which Salman Khan plays a warriors role.
From the misty pages of history comes a story of extreme valour, fierce pride and poignant love.
As the British enslave India with their devious Divide and Rule policy, kings and nawabs fall to their guile and cunning, and entrust their precious kingdom to the foreigners.
Except for the brave Pindaris, who prefer death to dishonour and will fight to their last breath to save their land...their mother.
The bravest, the toughest, the strongest of the Pindaris is Veer. As Veer takes on the might of the British Empire, he also has to fight the conniving King of Madavgarh as well his own jealous tribesmen.
But then the stakes are high...
At stake is his love for princess Yashodhara, daughter of his sworn enemy...
At stake is his thirst to avenge his father's dishonour...
At stake is his very existence itself....
Cannons roar swords clash in fierce battle; the dead pile up and when the dust settles down on the blood soaked land...one valiant warrior stands head and shoulders above them all - Veer!
The new look of Salman with Long hair, 6-pack abs, and a bronzed look that suits him. Veer movie is produced by Eros and directed by Anil Sharma who has made Bollywood blockbusters like Gadar - Ek prem Katha. Salman Khan himself scripts veer.
The film is about an Indian warrior fighting the British Raj. The film will be similar to multiple Oscar winner Gladiator, and feature Salman in state of the art fight scenes. Apart from having Indian actors, the film also feature numerous Western faces, including the daughter of top Hollywood actor Jean Claude Van Damme - Bianca Van Damme.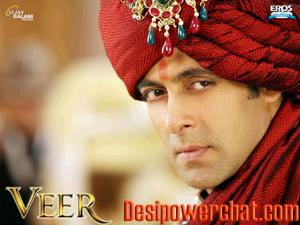 For this movie Salman has tried to get in shape for having better looks Also the first looks shows Salman giving a full body exposure, and its really appreciable, his looks is giving the feeling of a warrior.
It's nice to see some different movies are being made in bollywood. As the Indian audiences are now bored up with the old traditions movie with all that love& romance The movie of these kind is just a new starting and it's really appreciable that movie makers are now trying something different.